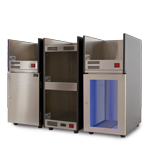 MILK FRIDGE & CUP WARMER
Add a creative touch to your break!
Keep milk cold in this fashionable fridge to get the maximum quality from your milk-based drinks. [more…]
More autonomy for your machine.
Can you imagine to raise the autonomy of your HLF machines? Now it is possible with the stylish waste drawer! [more…]
CABINETS
Design and quality for an efficient and organized coffee corner.
Nice and safe metal bases for all the HLF machines and accessories like milk fridge and cupwarmer. All you need at your fingertips! [more…]
COFFEE CORNER
Kind of genius, no?
This clever Coffee Corner was created to offer the possibility to organize independent breaks everywhere. [more…]